The Pink Tiki is open daily inside the Seacoast Suites at 5101 Collins Avenue. Chefs Michael B. Jacobs and Laurent Isaure of Strategic Hospitality Group are leading the endeavor.
WHAT: The Hidden Kitchen and The Pink Tiki.
Freshly opened at its new home in the Seacoast Suites, The Hidden Kitchen — Miami's premier underground dining experience — is back with a new concept: The Pink Tiki. "It's a great place for drinks, snack foods and recovering from the sun," chef-partner Michael B. Jacobs said of the new poolside project with a Miami vibe. The Tiki has already started hosting theme parties and more, so be sure to sign up for the mailing list for the latest event updates.
As The Tiki heats up, look for The Hidden Kitchen to begin a new season of food programming soon. It's a unique place for professional chefs and Miami foodies to collaborate, where restaurateurs test out new dishes and concepts, and brands connect with engaged locals for specialty beer, wine or cocktail tastings, cooking demonstrations, and interactive dinners. The venue also is open for birthday parties, cooking classes, holidays and more.
WHERE: Seacoast Suites, 5101 Collins Avenue, Miami Beach.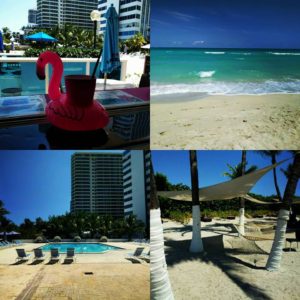 WHEN: The Pink Tiki is open daily from 11 a.m. to 8 p.m., poolside at the Seacoast Suites. The Hidden Kitchen events to be announced soon.
WHO: Michael B. Jacobs and Laurent Isaure.
Jacobs, a veteran of Michelin-starred restaurants and caterer to high-profile celebrity clients, graduated from Johnson & Wales University in Rhode Island and apprenticed under the legendary chef Terrance Brennan of Picholine in New York City and in some of the world's best kitchens. Jacobs was instrumental in placing South Florida on the international culinary map as executive chef of Tantra Restaurant and Lounge in South Beach and later as consulting chef of Grass in Miami's Design District, his cooking garnering praise in the Miami Herald and The New York Times as well as leading to stints on Food Network competitions. Jacobs also spent time feeding LeBron James, Dwyane Wade, Chris Bosh and the entire championship Miami Heat roster as the NBA team's official food-service provider. As CEO of Miami Beach-based Strategic Hospitality Group and chef/partner of The Hidden Kitchen, Jacobs is able to blend his business interest of culinary consulting with his love of cooking and interacting with guests.
Isaure, a native of France, began his hospitality career at a young age, while attending Le Mans University. He worked in prestigious restaurants, learning every job from server and bartender to host and general manager. Isaure's career has taken him to New York, where he managed Red/Chaise Lounge, to Tokyo, where he was a produce partner in Fab Universal, IFFM and LAIFF, and Paris, where he is owner and founder of Yume Japanese restaurant. In 2010, Isaure joined Jacobs in Miami Beach as partner of Strategic Hospitality Group. Isaure utilizes his vast knowledge and experience in the restaurant and hospitality industries for the benefit of clients, including new restaurants, under- or non-performing restaurants, high-end caterers and concierge providers, and event-production companies.
ABOUT: Strategic Hospitality Group Miami is a full-service consulting firm with solutions custom-tailored to meet the needs of its clients in Hotel, Restaurant and Foodservice operations. Based in Miami Beach, SGHM also runs The Hidden Kitchen and The Pink Tiki.