CHEF/OWNER, STRATEGIC HOSPITALITY GROUP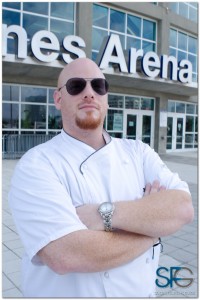 A veteran chef of Michelin-starred restaurants, caterer to high-profile celebrity clients and the current food-service provider for The Miami Heat, Michael B. Jacobs began his illustrious culinary career at the ripe age of 13. It was then that he joined his father's Boston-based catering company, where one of his first tasks was catering his own bar mitzvah.
Chef Jacobs quickly fell in love with the cooking world, leading him to enroll in Johnson & Wales University in Rhode Island. He graduated with honors from the prestigious culinary school in 1993. Jacobs apprenticed under legendary chefs, including Terrence Brennan of Picholine in New York City, and traveled extensively through Europe, where he worked at some of the world's best Michelin-starred restaurants. His European kitchen experience includes stints at the Auberge du Pont Rouge in Le Mans, France, Bacon in Cap d'Antibes in southeastern France, Le Gavroche in London, and the world-renowned Ecole Ritz Escoffier in Paris.
Jacobs landed in South Beach in the mid-1990s as the city was becoming an international destination and playground for the wealthy and famous. He helped place South Florida on the national culinary map as executive chef of Tantra Restaurant and Lounge, where his food encompassed classic techniques and "sexy," aphrodisiac embellishments. His style of global cuisine soon gained the attention of critics and diners alike, earning Jacobs the title of Rising Star Chef by Restaurant Hospitality magazine.
Looking for a new challenge, Jacobs in 1999 accepted the role of executive chef and hospitality director at Ferrell Law, a multinational firm based in Miami. After nearly a decade of creating elaborate meals and receptions for Ferrell's roster of attorneys and affluent clients, Jacobs returned to the restaurant industry. He became the consulting chef at Grass, a cutting-edge restaurant and lounge in Miami's white-hot Design District. He ran the food program at Grass concurrently with his MediterAsia Consulting, which provided catering, staffing, concept designing and event planning for food-television producers and other media clients.
Jacobs' cooking has garnered praise in a slew of major publications, including The New York Times, New York Magazine, New York Post, USA Today, The Miami Herald, South Florida Sun-Sentinel and Ocean Drive. Armed with a larger-than-life personality, he has appeared as a contestant on several national Food Network television shows, including the "Food Challenge" series and "Chopped."
Jacobs currently is the CEO of Miami Beach's Strategic Hospitality Group, a restaurant and hospitality consulting firm that he founded in 2009. SHG focuses on turnkey food and beverage services, from development, implementation, management and staffing of new restaurants, to evaluation and re-conceptualizing of non-performing restaurants, as well as high-end catering, event coordination, and personalized concierge services. Never one to stray far from the kitchen, Jacobs joined The Miami Heat as the team's food service provider in 2009. He oversees a tightknit group of chefs who keep the players, coaches and support staff well fed with delicious, nutritious fare, from large-scale catered meals to individually-tailored snacks.
Interviews and photography available upon request.